QuadQuestions 18a Simon K esc [RapidESC]
This is an 18A Brushless ESC with firmware by Simon Kirby (available here: 
https://github.com/sim-/tgy
). New firmware means direct, linear throttle response, making it suitable for multicopter use.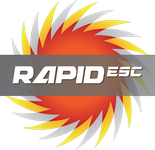 ESCs ship with firmware which can be upgraded by using Afro USB Linker. More details about firmware upgrade process is available here: http://www.abusemark.com/downloads/rapidesc_update.pdf
NOTE: This firmware does NOT check battery voltage or ESC temperature. Always use a LiPo alarm and monitor pack voltage while using.
NOTE: These are not I2C ESCs and as such are not directly compatible with Mikrokopter-style interface, however they can be used with I2CPWM converter with MK hardware.
Specs
Constant Current: 18A
16MHz crystal – 16kHz PWM frequency
Immediate translation of input PWM duty into motor control, no smoothing or delay
Throttle range calibration available
Firmware update by USB adapter (not included)
Battery: 2-4S Lipoly / 5-12s NiXX
BEC: NO BEC
Motor Type: Sensorless Brushless
Size: 12w x 23h x 5d mm
Weight: 5.1g